24/08/1999 - Crook Peak Bottom Landing Closed
We have lost the Crook Peak bottom landing as a result of a serious incident on Saturday, 7th August, when a pilot crashed into high voltage power lines.
Read More
Grid Reference
ST 388 558
Nearest Postcode
BS26 2HW
Wind Direction
S, SSW, SW, WSW
Site Officer
Rich Harding (07966 491138)
Rating
Experienced Pilots Only. No training.
Permission
This is an Open Site. Please abide by Avon Club Rules and if you are not a club member read the section for Non-Members. The site is jointly controlled by ourselves and the Devon & Somerset Condors.
Parking
Park in one of the two lay-bys below Crook Peak, overlooking the Levels.
Rigging
Carry up to the top of the hill via the paths that lead from the lay-by. Hang glider pilots may find the longer but shallower bridle path an easier walk.
Take Off
Not at the very top for hang gliders but lower down where the gradient is steeper. Paraglider pilots can go higher up if they wish. Be aware that this is a spineback ridge - don't get dragged over the back. The western corner of the ridge above the Webbington Hotel can be very tricky, as there is often rotor from the cliff and there are few fields uninterrupted by power lines at the bottom. It is possible to fly the north-western face, but there is no official landing field. Don't go down on this side.
Local Flying
Do not fly over any horses or let your shadow go near them. Only fly east to Wavering Down if you are certain that you can get back, as there are no bottom landing fields in that direction (the local farmers are very anti hang gliding/paragliding). Be aware that modellers use this area as well. Liaise before launching, for your own safety.
XC Flying
The site is directly under Bristol CTA 1500'. Ridge runs can be made to Weston and to Wells. If the run to Wells is possible XC's can be undertaken on the same track as from Draycott. There are better possibilities if you can get up from the north-western face.
Top Landing
Very tricky on hang gliders. Easier on paragliders as long as you use the middle portion of the ridge.
Bottom Landing
THERE IS CURRENTLY NO BOTTOM LANDING
Hospitals
Weston or Bristol.
Directions
Turn west off the A38 at Cross, towards Loxton. Crook Peak is the long ridge after two miles, just before the Webbington Hotel (which can be seen from the M5).
Ordnance Survey Sheet
182
Latest Flying Diary Entries for Crook Peak
07/12/08 Rich Harding - Just went for a walk with Sarah and her daughter Karla but took the glider as there was supposed to be a bit of a S breeze. There wasn't, so decided to fly down and laid out for a forward launch. Just as I was about to take off, who wanders along but Alex, Jo and Frankie! Must have been in the air for, ooh, at least 30 secs ;) One piece of news though: the NT chaps that were clearing the slope when I was last there have removed masses of bramble bushes - the slope is now largely clear.
09/10/08 Rich Harding - Work and other commitments later meant no point seeking out an XC site, so trotted off early down to Crook Peak and launched a little before 12 for an hour's pleasant thermic flying, sharing the air with a model flown by a friendly chap called Stuart who "used to fly Rogalos in the 70's". Actually, in the end I could have essayed an XC in either direction from where I was, with some reasonable thermals and most of my time spent at least above if not well in front of the road :)
04/06/08 Rich Harding - Couldn't get out of the work thing today so, for the first time in what must be six years, went after-work flying, and had a great 50 mins on the Peak with height gains of, oh, almost 200ft at one point! ;) Really informative, fun little bimble it was though, accompanied by a couple of models (sadly of the winged variety!).
12/01/08 Graham Richards - Got there 11:45. V little wind and more SSE than the SW forecast. Not even the modellers were flying. Eventually it picked up and swung SSW pretty much bang on the ridge. Models now airbourne so after agreeing that I would keep to the right, took off for a very pleasant hours flying. Many touch and goes and eventually made 80m ATO as I worked up to the peak. Nice to get out at a site I used to fly models at before taking up PG. Good to meet some old chums too.
29/04/05 Graham Richards - Having flown model gliders here with the West Mendip Soaring Club for the last 5 years, I'd been desperate to fly this site. At work looking at XCWeather and out the window, I just had to leave and give it a go. Rewarded with 2 flights in a strengthening wind to 500ft ATO, both top landing (there is no official bottom landing field). Fantastic. Dream satisfied.
Clickable Bing Map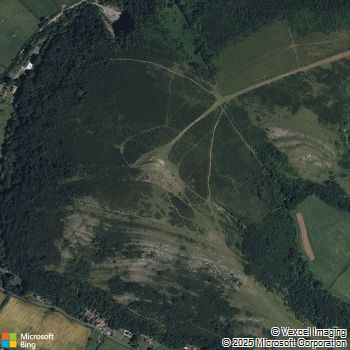 ---
This page last updated: 3rd February, 2022
© Avon Hang Gliding & Paragliding Club, 1997-2023
E-Mail the